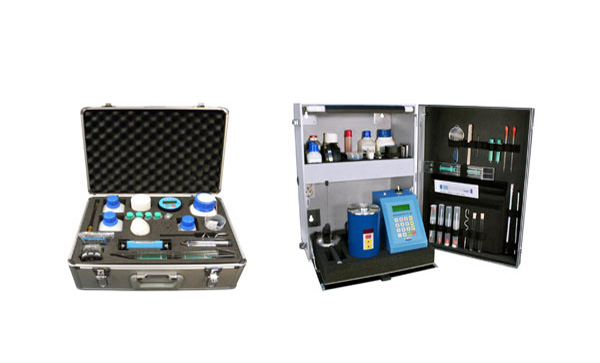 Fuel, lube, and hydraulic oils are crucial fluids in operating nearly all types of engine and have become an ever more precious resource. Martechnic's dedication is to provide engineers with equipment and management solutions to conduct continuous preventive and condition-based maintenance. the aim is to assist engineers in effectively and safely running various engine types, and thereby reduce cost. Martechnic's mineral oil test kits enable users to test and evaluate fuel, lube and hydraulic fluids promptly and on-site.
The procedures are easy to perform and provide operators with an independency and reassurance not achievable by external laboratory analysis alone. And because any results gained either by lab and by on-site test will always reflect on the sample drawn, Matechnic's provides suitable sampling equipment to obtain representative samples, so that efforts invested in maintenance can pay off. An applications, Martechnic equipment is in use are manifold, yet especially in places where engineers can rely only on thier equipment and expertise alone. Customers are shipping companies, navies, power plants, oil companies, process industries, railways, mining, and construction companines.
Martechnic's daily is to meet costumer's requirements with fast and individual response, application specific solutions, and efficient order processing.
---
MODEL
LUBE OIL CHECK 5
LUBE OIL CHECK 6
FUEL & LUBE OIL TEST CABINET
TEST EQUIPMENT
Inclusion
V 150 SALT CHECK
V 150 SALT CHECK
V 150 SALT CHECK
V 5108 TWINCHECK
V 5108 TWINCHECK
V 5108 TWINCHECK
V 310 SPOT CHECK
V 310 SPOT CHECK
V 310 SPOT CHECK
V 200 VISCOSITY COMPARATOR
V 200 VISCOSITY COMPARATOR
V 200 VISCOSITY COMPARATOR
–
V 710 JUNG CHECK
V 232 VISCO DENS PLUS
–
–
V 351 COMPATIBILITY CHECK 2005
Optional
–
–
V 750 FLASH POINT CHECK
–
–
V 400 COOLY CHECK
PARAMETERS
TEST EQUIPMENT
Water in Oil
Range
0 – 1.0 vol % H20
1 – 1.0 vol % H20
2 – 1.0 vol % H20
Time
Up to 20 min
Up to 20 min
Up to 20 min
Accuracy
+/- 3%
+/- 3%
+/- 3%
Base Number
Range
0 – 100 BN
1 – 100 BN
2 – 100 BN
Time
Up to 20 min
Up to 20 min
Up to 20 min
Accuracy
+/- 1 BN
+/- 1 BN
+/- 1 BN
Viscosity Comparison
Range
go / no go
go / no go
go / no go
Viscosity
Range
–
10 – 999 m/s
1 – 999 m/s
Accuracy
–
+/- 5%
–
Density
Range
–
–
0,82 – 1,05 g/ml
Time
–
–
about 15 min
Sample Value
–
–
150 ml
Accuracy
–
–
+/- 3%
Salt Water Contamination
Time
about 10 min
about 10 min
about 10 min
Compatibility
Range
–
–
all heavy fuels
Time
–
–
several hours
Insoluble
Time
about 15 min
about 15 min
Optional
–
–
Pour Point, Flash Point
TEST BENEFITS
Cost are cut because malfunction is recognized in time, repairing and maintenance could be done directly
Saving of cost because malfunction is recognized in time
Saving cost because malfunction is recognized in time and repairing could avoid damages
Handy to use and for transport
Easy to handle even for untrained personnel
Possibility to do repairing or maintenance directly
Easy to learn procedures
Handy to use and for transport
Easy to handle even for untrained personnel
Prepared for wall fastening